Imagine a store where you belong. . .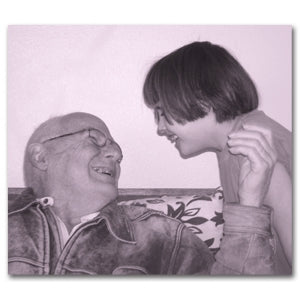 Our Story
60 years ago, my grandfather saw a need and started a family business supplying products to small drugstores. 58 years later, his great granddaughter was diagnosed with Autism. From the outside, it would be hard to imagine how this can change everything. This is where our journey began as a family, and eventually as a business.
My dad was my biggest supporter and my daughter's number one fan. After the diagnosis, he watched me struggle to figure out what treatments were appropriate and necessary for my daughter (ABA, VBA, OT, Speech Therapy, Music, Biomedical, a special diet?...) at the same time I faced the daily challenge of meeting her basic needs.
He often felt helpless as I searched the internet and went to support group meetings and conferences—gathering information and piecing together tidbits of advice. I was overwhelmed by how hard it was to figure out what she needed, how challenging it was to find things, and how very isolated I felt.
Inspired by our experience as a family, my Dad and I dreamed of a place that had all the things exceptional people and their families needed to learn and thrive, a place that would be a resource for the parents, therapists and dedicated professionals who go to the ends of the earth to help our kids, and a place where we belonged. We founded the Autism Community Store in 2007 -- The first store in the country to specialize in products for individuals on the autism spectrum!
Sadly, my dad passed away in 2009. I know he would be pleased and proud to see that the store lives on, now run by parents and siblings of children with Autism Spectrum Disorder and individuals on the Spectrum. Today, this special little shop is a social enterprise, supporting the community with resources, events and employment opportunities. Every day, we help families, teachers, therapists and autistics get hard-to-find products for individuals with autism, sensory issues, ADHD and other special needs at reasonable prices. For all those people who would go to the ends of the Earth for our friends with Autism… hopefully, now you won't have to.
Shannon Sullivan
Co-founder, Autism Community Store
Mother of one of the most remarkable girls in the world
Expert customer service from a team that gets it!